Understanding Pregnancy
A normal pregnancy usually lasts between 38 and 42 weeks. A pregnancy is divided into thirds called trimesters. Women experience hormonal, physical and emotional changes during this time.
Doctors calculate the age of pregnancy from the first day of the last menstrual period, but actual fertilization (egg fertilized by sperm) takes place later in the menstrual cycle. For example, if a woman is 6 weeks pregnant, then it has probably been 4 weeks since fertilization.
At fertilization the fertilized ovum (egg) contains all of the DNA (genetic information) that determines, together with environmental influences, many of the physical and personality qualities of a new human being, including sex, hair and eye colour, height and skin tone.
In the second week after fertilization (i.e. between 6 and 12 days), the fertilized ovum attaches itself to the lining of the uterus. It begins to draw nutrition from the mother's body that allows it to continue to grow. During pregnancy, it is important for a woman to see a health care professional.
Fetal Development
Most women discover they are pregnant after missing a menstrual period. This would be about Week 5 of the pregnancy. The following are milestones that take place during the first trimester:
Week 5 (3 weeks after fertilization): By day 21, the embryo starts to develop the beginnings of its heart, nervous system (later giving rise to the spine and brain), eyes, ears, nose, and digestive tract. Ultrasound can detect the embryo's heartbeat between 3-4 weeks after fertilization.
Week 7–8 (5–6 weeks after fertilization): Nervous system activity can be recorded. The arms and legs, and fingers and toes, are developing and become recognizable.
Week 9: The embryo is about 2.5 cm (1 inch) long and weighs approximately one gram.
Week 10: All major internal organs, such as the lungs, kidneys and liver, are in place. The fetus begins to move and respond to stimuli.
Week 12: All the major internal organs are formed. During the remainder of the pregnancy, the organs grow and mature in order to function independently outside the womb. The brain and muscles are working together to kick, curl toes, press lips together and produce some facial expressions. The sex can be distinguished at this stage. The fetus is now 9 cm (3½ inches) long and weighs about 15 grams.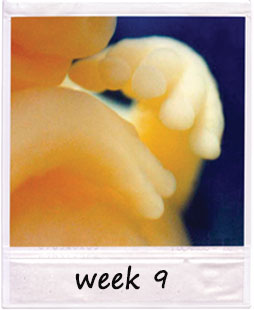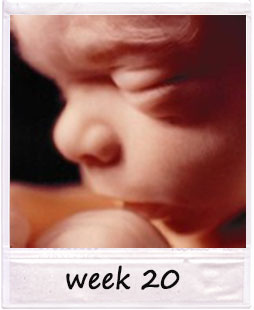 During pregnancy, many women are curious about fetal development, especially as they begin to feel the baby moving (as early as 16 weeks).
If you have had a positive pregnancy test, it is recommended that you talk to doctor to confirm and date the pregnancy. Once confirmed, it is a good idea to seek out prenatal care.
Many websites and books will help track pregnancies, and your provincial health care will cover at least one ultrasound appointment.
Some centres listed on this website provide pre-natal instruction/childbirth classes and pregnancy support services.
If you are not sure if you are pregnant, need support or would like to discuss your options, we invite you to start a conversation, or check out a pregnancy centre near you. All services are free of charge and confidential.
Read on: